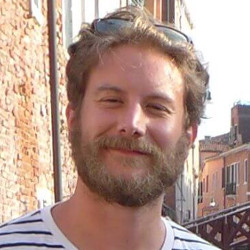 Position: Lecturer
Team: Plant diversity and evolution
Contact details:
Laboratoire Écologie, Systématique et Évolution – IDEEV
Bureau 2230 Bât. 680 – 12, route 128
91190 Gif Sur Yvette
Tel: –
Fax: –
Email: xavier.aubriot (at) universite-paris-saclay.fr

PERSONAL WEBSITE
As a botanist and naturalist my main research interests are the taxonomy, phylogenetics and diversification of flowering plants. I completed my PhD at Paris Natural History Museum in 2012 where I became passionate about plants' evolution.
Among other research interests, I am working (1) on the diversification of the mega-diverse genus Euphorbia (Euphorbiaceae) in Madagascar, (2) on the largest endemic family in Madagascar (Sarcolaenaceae), and (3) on the spiny solanums (Solanaceae) of Tropical Asia.
I have also general interest in the evolution of crop wild relatives and in the drivers of plant domestication. In particular, I am investigating the evolutionary context of the brinjal eggplant (Solanum melongena L.) and its closest wild relatives.
A listing of my past and current works (PhD dissertation, publications) is available on my personal website and on my profile pages (Google Scholar et ResearchGate).
I am teaching botany (diversity and adaptation of terrestrial plants) in Licence 1 and 3 (undergraduate level) of Biology at Paris-Sud University. I am also contributing to a university degree with professional training in sustainable urban landscape management (Paris-Sud University/National Museum of Natural History/School du Breuil).
In addition, I am involved in courses at the University of Rennes 1 (Master 2 bioinformatics; postgraduate level) and the National Museum of Natural History (Master 1 plant biodiversity; postgraduate level) on phylogenetics and human/plant historical relationship.
Scientific community involvements
Reviewer for scientific journals: Acta Botanica Gallica, Botanical Journal of the Linnean Society, Candollea, Molecular Ecology, Molecular Ecology Resources, PeerJ, PhytoKeys, Phytotaxa, Plant Systematics and Evolution, Systematic Botany, Webbia
Member of the board of the UK Systematics Association (SA): (1) Co-organizer of the yearly 'Young Systematists Forum' (YSF); (2) Jury member for the 'Systematics Research Fund' (SRF) delivered by the Systematics Association and the Linnean Society