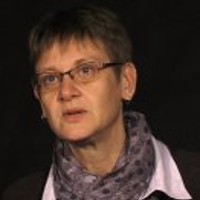 Nathalie Frascaria-Lacoste
Position: Professor
Detailed position: AgroParisTech Professor – ESE Assistant Director
Team: Ecological trajectories and society
Contact details:
Laboratoire Écologie, Systématique, Évolution
Bât. 360, rue du Doyen André Guinier
91405 Orsay Cedex
Tel: +33 (0)1 69 15 56 68
Fax: +33 (0)1 69 15 46 97
Email: nathalie.frascaria (at) universite-paris-saclay.fr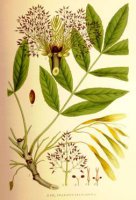 Over the past fifteen years, I worked in the field of evolutionary genetics in forest trees within the UMR 8079 ESE. After a period in which I was attached to describe the genetic structure and gene flow in forest populations, I have also worked on reproductive systems and their evolution. These last years, my concerns have been linked to processes of hybridization in a particular species complex: the ashes, Fraxinus genus mixed with phylogenetic and phylogeographic studies. I no longer work on these subjects.
My research now are more in line with my teaching in relation to the urban biodiversity at the scale of eco-districts (PhD Thesis of A. HENRY funded by the VINCI Group, Chair School Les Mines, Les Ponts and AgroParisTech, defence 18/12/2012) with a reflection of implementing ecological engineering in urban areas (partnership with both Veolia and GDF-Suez/CIRSEE).
I was associated to a project AMtools http://www.centre-cired.fr/spip.php…
(Key words : Climate Change, Forest, Assisted Migration, Public policies, regulatory framework) (Roxane SANSILVESTRI PhD 2012-2015 in partnership with Juan Fernàndez-Manjarrès)
I was associated to urban agriculture project (PhD thesis Baptiste GRARD, 2014-2017). Based on an experiment on the rooftop of AgroParisTech in 2012-2013, the goal of this thesis is to determine the role of the crop biodiversity linked to the substrate of culture. A system of cultivated boxes will be used to compare some urban organic substrate, inseminated or not with earthworm, with crop association and succession built in a way to evaluate the system in terms of production, biodiversity (cultivated and spontaneous) and substrate evolution. The goal here is to create a new kind of multi-functional rooftop in terms of ecosystem services: provision, regulation and support.
I'm also engaged within VINCI Chair in a new research field (PhD thesis Julie LATUNE, 2015-2018)
Today, french organisations are investigating different offseting methods like mitigation bank system or like landscape approaches. These offsets pose ecological, social, economic, legal and ethical issues. Many people can see offsetting like a right to destroy nature, others like a trading market of nature, or like the loss of the agricultural activity (losing land). How to manage correctly the mitigation hierarchy (avoid, minimize and offset). The goals of this PhD are linked to these questions: How manage land availability? How tackle mitigation bank system? How to deal with different landscape activities? What are the human conflicts involved? What is the adequate governance to establish this policy?
I'm also engaged in a large projet ITTECOP (2014-2017) with the aim to study the possible biodiversity renaturation within transport infrastructures.
At last, I'm engaged in a LabEx BASC project INDISS (2016-2019) INnovation and Design In Sociotechnical Systems.
My classes are linked to the curriculum of engineers AgroParisTech and to the Master School BASE in Paris-Saclay University, M1 and M2 (Master BEE, Biodiversity, Ecology and Evolution and others Masters as Environment, Territory, Landscape, Forest). I teach and organize classes around Ecological Engineering, Ecology and Society and Ecological Restoration subjects.
Post-doctoral fellows:
2002-2009 J. FERNANDEZ-MANJARRES, PhD USA: Large scale patterns of hybridization in Fraxinus complex
2004-2005 N. MIYAMOTO, PhD Japan: Pollen structure analysis and seedling recruitment processes in Fraxinus excelsior
2006 J. BASAK, PhD India: Study of the gene Phantastica in the genus Fraxinus
2012-2013 D. HINSINGER, PhD France/Canada. Genomics of the genus Fraxinus
Current Graduate student:
2015-2018 : J. LATUNE Interdisciplinary approaches for thinking a new implementation method of the ecological compensation.
2016-2019 : T. FOUQUERAY (co-direction M. TROMETTER) Climate Change within Forest socio-ecosystems
2017-2020 : P. CHASSE (co-direction C. BLATRIX) Analysis of the effectiveness of public policies in protecting biodiversity
Former graduate students:
2014-2017 : B. GRARD (co-direction C. CHENU) Agricultural production integrated as a part of the building for a sustainable city : starting with cultural and substrate biodiversity to create an "agro-ecosystem"
2012-2015 : R. SANSILVESTRI (co-direction J. FERNANDEZ-MANJARRES)
Evaluation of Assisted Migration in managed forest as an option to adaptation to climate change ; ecological and political stakes
2009- 2013: R. JOSEPH (co-direction with C. DAMESIN, ESE Lab) Genetic and functional diversity in a species complex Fraxinus excelsior L. and Fraxinus angustifolia Valh. Importance of the hybridation within climatic change and forest management perspectives.
2009-2012: A. HENRY Place of biodiversity in the Ecodistricts (PhD VINCI Chair with AgroParisTech)
2006-2010 D. HINSINGER (co-direction with J. BOUSQUET, Québec, Canada): Phylogeny and Phylogeography of the genus Fraxinus
2002-2006 P. GERARD: Reproductive isolation and dispersal in hybrid zones between Fraxinus excelsior and F. angustifolia
2002-2006 S. STOECKEL (co-direction with S. MARIETTE, INRA Bordeaux, France): Genetic diversity, effective population size and male fitness success in Prunus avium
1999-2003 M. E. MORAND-PRIEUR: Gene flow and evolution of sex in Fraxinus excelsior
1995-1999 S. BRACHET: Dispersal, theoretical and experimental approaches in the case of Fraxinus
Engineers :
2010-2011 : Justine VINCENT (GDF-Suez/CIRSEE)
2010-2011 : Solène LE FUR (Veolia)
2014-2016 : Julie LOMBARD-LATUNE (Vinci chair)
2016-2017 : Pauline DELFORGE (Vinci Chair)
2016-2018 : Angevine MASSON (Vinci Chair)
Education
1991 – PhD in Ecology, University of Paris Sud
2002 – HDR in Ecology, University of Paris Sud
Professional positions
Professor at the AgroParisTech institution, 2009-present
Assistant Professor at the ENGREF institution, ENGREF Paris, 2000-2010
Deputy Director of the UMR CNRS/UPS/ENGREF 8079, 2001-present
Assistant Professor at the ENGREF institution, ENGREF Nancy, 1995-2000
Assistant lecturer at the ENGREF institution, ENGREF Nancy, 1992-1995
Post-doctoral fellow at the CRBF institution, Québec, Canada, 1991-1992
European projects (RAP, Coordinator G. DOUGLAS, 2001-2005, COFORD 2008-2010, Coordinator G. DOUGLAS, EVOLTREE, REX, coordinator A. KREMER, 2006-2010)
French Ministry of Agriculture (5 projects funded between 1996 and 2005)
IFB and FRB (1 project funded in 2003-2005 and one in 2009-2011)
BRG and French Ministry of Ecology (2 projects funded between 2000 and 2008)
CNRS Ecological Engineering Funds (2 projects funds 2009-2010 RESTOGEN and 2010-2011 Inge-For)
Grants from Veolia 2011, GDF-Suez/CIRSEE 2011, VINCI Chair with AgroParisTech 2009-2012
INDISS Basc LabEx grant 2016-2019
ACT LAB Basc LabEx grant 2016-2019
MSH Project Paris-Saclay 2018 IDEES-BIO Project Impact of Environmental Assessment in regional planning policies: the case of BIOdiversity
Member of the French Ecology Society
President of the French Association called Gaié for 'Groupe des Acteurs de l'Ingénierie Ecologique'
Member of the governing board fo AFIE and Humanity and Biodiversity association
FOUQUERAY T., CHARPENTIER A., TROMETTER M. & FRASCARIA-LACOSTE N., 2020. The calm before the storm: How climate change drives forestry evolutions. Forest Ecology and Management, volume 460, 15, https://doi.org/10.1016/j.foreco.2020.117880
SANSILVESTRI R., CUCCAROLLO M., FRASCARIA-LACOSTE N., BENITO-GARZON M., FERNANDEZ-MANJARRES J. 2019. Evaluating climate change adaptation pathways through capital assessment: five case studies of forest social-ecological systems in France, Sustainability Science, 1-15
LATUNE, J. LEVREL, H. & FRASCARIA-LACOSTE N. 2019. Où en est la France en matière de compensation écologique ? Eléments de réponses à partir de l'analyse des mesures compensatoires mises en place dans le cadre de la Ligne à Grande Vitesse Sud Europe Atlantique et mises en perspective avec les Sites Naturels de Compensation et des initiatives territoriales. Cybergéo https://doi.org/10.4000/cybergeo.33228.
Timothée FOUQUERAY, Antoine CHARPENTIER, Michel TROMETTER & Nathalie FRASCARIA-LACOSTE, 2019 Is adaptation to climate change threatening forest biodiversity? A comparative and Interdisciplinary study case of two french forests, Handbook of Climate Change and Biodiversity, 337-354, Springer Editors https://link.springer.com/chapter/10.1007/978-3-319-98681-4_21
Timothée FOUQUERAY, Michel TROMETTER & Nathalie FRASCARIA-LACOSTE, 2018 Managed retreat of settlements and infrastructures : Ecological restoration as an opportunity to overcome maladaptive coastal development in France, Restoration Ecology 26 (5), 806-812 https://onlinelibrary.wiley.com/doi/abs/10.1111/rec.12836
Hugo ROCHARD,  Nathalie FRASCARIA-LACOSTE, Philippe JACOB, Laurent SIMON, Pierre PECH, 2018, Politiques urbaines et biodiversité en ville : un front écologique? Le cas de MGP, Métropole du Grand Paris, VertigO-18 1 lien https://journals.openedition.org/vertigo/19753
B. J-P GRARD, C. CHENU, N. MANOUCHEHRI, S. HOUOT, N. FRASCARIA-LACOSTE, C. AUBRY, 2018 Rooftop farming on urban waste provides many ecosystem services, Agronomy for Sustainable Development, 38,1 : 2 lien
B. GRARD, C. CHENU, N. FRASCARIA-LACOSTE, C. AUBRY, 2017 Rooftop farming on urban wastes : a first assessment of ecosystem services provided by constructed technosols, EGU General Assembly Conference Abstracts lien
CLEVENOT L., DE CHASTENET C., FRASCARIA-LACOSTE N., JACOB P., RAYMOND R., SIMON L., PECH P., 2017. Do Linear Transport Infrastructures provide a potential for urban biodiversity? Case study in Greater Paris, France, Cybergeo: European Journal of Geography 803, DOI : 10.4000/cybergeo.27895, lien
S. BAROT, L. YEB, L. ABBADIE, M. BLOUIN, N. FRASCARIA, 2017 Ecosystem services must tackle anthropized ecosystems and ecological engineering, Ecological Engineering, 99: 486-495 lien
L. ABBADIE, C. BASTIEN-VENTURA, N. FRASCARIA-LACOSTE, 2016, Bilan et enjeux du programme interdisciplinaire Ingeco du CNRS (2007-2011) : un tournant pour l'ingénierie écologique en France ? Natures Sciences Sociétés, 23, 389-396 link
FRASCARIA-LACOSTE N., 2015 Apprenons à cultiver le collectif. La revue du Cube link
SANSILVESTRI, R., FRASCARIA-LACOSTE, N., & FERNANDEZ-MANJARRES, J. F. 2016, One option, two countries, several strategies: subjacent mechanisms of assisted migration implementation in Canada and France. Volume 24, Issue 4 :489–498 Restoration Ecology link
LEVREL, H., FRASCARIA-LACOSTE N., HAY J., MARTIN G., 2015, Restaurer la nature pour attenuer les impacts du développement; Analyse des mesures compensatoires pour la biodiversité, Editions Quae, Synthèses, Paris, 313 pp. link
SANSILVESTRI, R., ROTURIER, S., COLAS, B., FERNANDEZ-MANJARRES, J.F. & FRASCARIA-LACOSTE, N., 2015. Intégrer le facteur climatique dans la compensation écologique: l'exemple des écosystèmes forestiers. In: Restaurer la Nature. pour compenser les impacts du développement. Editions Quae, Synthèses, Paris.
GRARD B.J.P., BEL N. , MARCHAL N., MADRE F., CASTELL J.F., CAMBIER P., HOUOT S., MANOUCHEHRI N., BESANCON S., MICHEL J.C., CHENU C., FRASCARIA-LACOSTE N., AUBRY C., 2015 Recycling urban waste as possible use for rooftop vegetable garden, Future of Food, Journal on Food, Agriculture and Society, 3(1), 21-34 link
BECU, N., FRASCARIA-LACOSTE, N., & LATUNE, J. 2015. Experiential learning based on the NewDistrict asymmetric simulation game: results of a dozen gameplay sessions. In Hybrid Simulation & Gaming in the Networked Society: The 46th ISAGA Annual Conference (pp. 6–19–84 – 6–19–90).lien
SANSILVESTRI, R., FRASCARIA-LACOSTE, N., & FERNANDEZ-MANJARRES, J. F. 2015. Reconstructing a deconstructed concept: policy tools for implementing assisted migration for species and ecosystem management. Environmental Science & Policy, 51:192-201.
link
BECU N., FRASCARIA-LACOSTE N., LATUNE J., 2014 Distributed asymmetric simulation enhancing participatory simulation using the concept of Habitus, In The Shift from Teaching to Learning: Individual, Collective and Organizational Learning
Through Gaming Simulation Proceedings of the 45th Conference of the International Simulation and Gaming Association ISAGA Dornbirn, pp 75-85 link
HINSINGER D.D., GAUDEL, M., COULOUX, A., BOUSQUET, J., FRASCARIA-LACOSTE N., 2014 The phylogeography of eurasian Fraxinus species reveals ancient transcontinental reticulation, Molecular Phylogenetics and Evolution,223-237 link
THOMASSET M., HODKINSON TR., RESTOUX G., FRASCARIA-LACOSTE N., DOUGLAS G.C., & FERNANDEZ-MANJARRES JF 2014 Thank you for not flowering: conservation genetics and gene flow analysis of native and non-native populations of Fraxinus (Oleaceae) in Ireland, Heredity, 1-11, link
HINSINGER D.D., BASAK J., GAUDEUL M., CRUAUD C., BERTOLINO P., FRASCARIA-LACOSTE N. & BOUSQUET J. 2013 The Phylogeny and Biogeographic History of Ashes (Fraxinus, Oleaceae) Highlight the Roles of Migration and Vicariance in the Diversification of Temperate Trees PloS ONE, 8,11: e80431 link
ALBERT B., MORAND-PRIEUR M.-E., BRACHET S., GOUYON P.-H., FRASCARIA-LACOSTE N. & RAQUIN C. 2013 'Sex expression and reproductive biology in a tree species, Fraxinus excelsior L.' Comptes Rendus Biologies, 336 : 479-485 link
SILJAK-YAKOVLEV, TEMUNOVIC M., ROBIN O., RAQUIN C. & FRASCARIA-LACOSTE N. 2013 Molecular–cytogenetic studies of ribosomal RNA genes and heterochromatin in three European Fraxinus species. Tree Genetics & Genomes, 1-9 link
ERKTAN, A., CEDILLON, L., ROOSE, E., FRASCARIA-LACOSTE, N., REY, F. 2013 Morphological diversity of plant barriers does not increase sediment retention in eroded marly gullies under ecological restoration. Plant Soil, 370:653-669 link
BENITO-GARZON, M., HA-DUONG, M., FRASCARIA-LACOSTE, N. & FERNANDEZ-MANJARRES, JF. 2013 Habitat Restoration and Climate Change: Dealing with Climate Variability, Incomplete Data, and Management Decisions with Tree Translocations. Restoration Ecology, 21:530-536 link
BENITO-GARZON, M., HA-DUONG, M., FRASCARIA-LACOSTE, N. & FERNANDEZ-MANJARRES, JF. 2013 Extreme climate variability should be considered in forestry assisted migration BioScience, 63(5):317 link
TEMUNOVIC M, FRASCARIA-LACOSTE N, FRANJIC J, SATOVIC Z, FERNANDEZ-MANJARRES JF 2013 Identifying refugia from climate change using coupled ecological and genetic data in a transitional Mediterranean-temperate tree species. Molecular Ecology 22: 2128-2142 (doi: 10.1111/mec.12252). link
GERARD P. R., TEMUNOVIC M., SANNIER J. , BERTOLINO P., DUFOUR J. , FRASCARIA-LACOSTE N. & FERNANDEZ-MANJARRES J.F. 2013 'Chilled but not frosty: understanding the role of climate in the hybridization between the Mediterranean Fraxinus angustifolia Vahl and the temperate Fraxinus excelsior L. (Oleaceae) ash trees. J. of Biogeography 40: 835-846. link
THOMASSET M., FERNANDEZ-MANJARRES JF., DOUGLAS G. C., BERTOLINO P., FRASCARIA-LACOSTE N. & HODKINSON T.R. 2012 Assignment testing reveals multiple introduced source populations including potential ash hybrids (Fraxinus excelsior x F. angustifolia in Ireland) Europ. J. For. Research 1-15. link
TEMUNOVI? M., FRANJI? J. , SATOVIC Z., GRGUREV, FRASCARIA-LACOSTE, N. & FERNÁNDEZ-MANJARRÉS JF. 2012 Environmental heterogeneity explains the genetic structure of Continental and Mediterranean populations of Fraxinus angustifolia Vahl. PLos ONE 7 (8) e42764.link
HENRY A. & FRASCARIA-LACOSTE N., 2012. Comparing green structures using life cycle assessment: A potential risk for urban biodiversity homogenization? Int. J. of Life Cycle Assessment 17: 949-950 link
FRASCARIA-LACOSTE N & FERNANDEZ-MANJARRES JF. 2012 Assisted colonization of foundation species: lack of consideration of the extended phenotype concept – Response to Kreyling et al. (2011) Restoration Ecology 20:296-298. link
HENRY A. & FRASCARIA-LACOSTE N., 2012. The green roof dilemma – Discussion of Francis and Lorimer (2011). Journal of Environmental Management 104: 91-92. link
ARCA M.A., HINSINGER D.D., CRUAUD C., TILLIER A., BOUSQUET J., FRASCARIA-LACOSTE N., 2012 Deciduous trees and the application of universal DNA Barcodes :a case study on the circumpolar Fraxinus. PLoS ONE 7(3) e34089 link
FRASCARIA-LACOSTE N., HENRY A., GERARD P., BERTOLINO P. , COLLIN E., FERNANDEZ-MANJARRES JF.. 2011 Should Forest Restoration with Natural Hybrid be allowed? Restoration Ecology19: 701-704 link
THOMASSET M., FERNANDEZ-MANJARRES JF.., DOUGLAS G.C., FRASCARIA-LACOSTE N. & HODKINSON T. 2011. Hybridisation, introgression and climate change : a case study for the tree genus Fraxinus(Oleaceae). In Chap 15 in Climate Change, Ecology and Systematics (eds Hodkinson T.R., Jones M., Waldren S., Parnell J.). University Press. Cambridge. link
THOMASSET M., FERNANDEZ-MANJARRES JF.., DOUGLAS G.C., FRASCARIA-LACOSTE N. C. RAQUIN & HODKINSON T. 2011. Characterisation of F1 hybrid ash (Fraxinus excelsior × F. angustifolia) and parental species using morphological and microsatellite markers. Int J. Plant Sci. 172: 423-433 link
AGGARWAL, RK , ALLAINGUILLAUME, J, BAJAY, MM ; BARTHWAL, S ; BERTOLINO, P ; CHAUHAN, P ; CONSUEGRA, S; CROXFORD, A ; DALTON, DL ; DEN BELDER, E; DIAZ-FERGUSON, E ; DOUGLAS, MR ; DREES, M ; ELDERSON, J; ESSELINK, GD ; FERNANDEZ-MANJARRES, JF ; FRASCARIA-LACOSTE, N ; GABLER-SCHWARZ, S ; DE LEANIZ, CG ; GINWAL, HS ; GOODISMAN, MAD ; GUO, BL ; HAMILTON, MB ; HAYES, PK ; HONG, Y; KAJITA, T; KALINOWSKI, ST ; KELLER, L ; KOOP, BF; KOTZE, A ; LALREMRUATA, A ; LEESE, F ; LI, CH ; LIEW, WY ; MARTINELLI, S ; MATTHEWS, EA ; MEDLIN, LK; MESSMER, AM ; MEYER, EI ; MONTEIRO, M ; MOYER, GR ; NELSON, RJ ; NGUYEN, TTT ; OMOTO, C ; ONO, JY ; PAVINATO, VAC ; PEARCY, M ; PINHEIRO, JB; POWER, LD ; RAWAT, A ; REUSCH, TBH ; SANDERSON, D ; SANNIER, J ; SATHE, S ; SHERIDAN, CK ; SMULDERS, MJM; SUKGANAH, A ; TAKAYAMA, K ; TAMURA, M ; TATEISHI, Y ; VANHAECKE, D ; VU, NV ; WICKNESWARI, R ; WILLIAMS, AS ; WIMP, GM ; WITTE, V ; ZUCCHI, MI, Permanent Genetic Resources added to Molecular Ecology Resources 2010. Molecular Ecology Resources 11 : 219-222. link
FRASCARIA-LACOSTE N, 2010. Economie de la Biodiversité : un génie que l'on aurait tort d'ignorer. Societal 69 : 44-49. link
MIYAMOTO N., FERNANDEZ-M JF, MORAND-PRIEUR ME, BERTOLINO P. & FRASCARIA-LACOSTE N., 2008 Evaluation of a sampling program for estimating genetic diversity in Fraxinus excelsior L. (Oleaceae), Annals of Forest Science 65, Article 403
GERARD PR, KLEIN EK, AUSTERLITZ F, FERNANDEZ-MANJARRES JF, FRASCARIA-LACOSTE N. 2006 Assortative mating and differential male mating success in an ash hybrid zone population BMC Evolutionary Biology Journal 6, Article 96 link
S. STOECKEL, J. GRANGE, J. FERNANDEZ-MANJARRES, I. BILGER, N. FRASCARIA-LACOSTE & STEPHANIE MARIETTE, 2006 ' Heterozygote excess in a self-incompatible and partially clonal forest tree species-Prunus avium L., Molecular Ecology 15 : 2109-2118. link
GERARD PR, FERNANDEZ-MANJARRES JF, BERTOLINO P, DUFOUR J, RAQUIN C, FRASCARIA-LACOSTE N. 2006 New insights in the recognition of two European ash species Fraxinus excelsior L. and F. angustifolia Vahl. as useful tools for forest management. Annals of Forest Science, 63 : 733-738 link
FERNANDEZ-MANJARRES JF, GERARD PR, DUFOUR J, RAQUIN C, FRASCARIA-LACOSTE N 2006 Differential patterns of morphological and molecular hybridization between Fraxinus excelsior L. and F. angustifolia Vahl. (Oleaceae) in Eastern and Western France. Molecular Ecology, 15:3245-3257 link
GERARD PR, FERNANDEZ-M. JF, FRASCARIA-LACOSTE N. 2006 Temporal cline in a hybrid zone population between Fraxinus excelsior L. and F. angustifolia Valh. Molecular Ecology 15: 3655-3667 link
M. HEUERTZ, S. FINESCHI, M. ANZIDEI, R. PASTORELLI, D. SALVINI, L. PAULE, N. FRASCARIA-LACOSTE, O. J. HARDY, X. VEKEMANS, G.G. VENDRAMIN, 2004 'Chloroplast DNA variation and postglacial recolonisation of common ash (Fraxinus excelsior L.) in Europe', Molecular Ecology, 13 : 3437-3452 link
M. HEUERTZ, JF. HAUSMAN, O. J. HARDY, G.G. VENDRAMIN, N. FRASCARIA-LACOSTE & X. VEKEMANS, 2004: 'Nuclear microsatellites reveal contrasting patterns of genetic structure between western and south-eastern European populations of the common ash (Fraxinus excelsior L.)', Evolution, 58: 976-988. link
M.E. MORAND-PRIEUR, C. RAQUIN, J. A. SHYKOFF & N. FRASCARIA-LACOSTE, 2003 : 'Males out compete hermaphrodites for seed siring success in controlled crosses in the polygamous Fraxinus excelsior (Oleaceae)', Am. J. Bot, 90 : 949-953. link