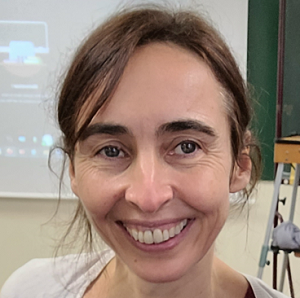 Position: Lecturer
Team: Ecological trajectories and society
Contact details:
Laboratoire Écologie, Systématique et Évolution – IDEEV
Université Paris Saclay
Bât. 680 – 12, route 128
91190 Gif Sur Yvette
Tel: +33 (0)1 69 15 77 20
Fax: –
Email: guislaine.refregier (at) universite-paris-saclay.fr
I work with my group on the evolutionary dynamics of pathogenic mycobacteria, with a particular focus on the agent of tuberculosis, the Mycobacterium tuberculosis complex.  While in the minds of many Westerners, tuberculosis is a disease of the past, it remains in fact the most deadly infectious disease after HIV, ahead of malaria and AIDS, even if we disregard the deaths of people with AIDS-tuberculosis dual infections. Contributing to the fight against this disease by exploring the adaptation modalities of its bacterial agent and the ways to circumvent them, thus makes sense not only at the fundamental level but also at the applied level.
We are interested in the global evolution of the genome of pathogenic mycobacteria, and more specifically in the rate of evolution of the tuberculosis agent, by trying to reconstruct the dates of divergence of important sub-lineages of this pathogen. To do so, we cross-reference information from various disciplines: human history, bacterial and human genetics, molecular evolutionary models.
We are also interested in the evolution of specific regions of interest in the genome, in particular the CRISPR locus. This locus, present in nearly half of all bacteria, is often involved in their immunity to foreign DNA. However, in M. tuberculosis, which is virtually immune to phage infection due to its intracellular location, CRISPR has no known function. By analyzing in detail the composition of CRISPR and other genomic variants in a wide range of genomic public data, we can reconstruct CRISPR composition at different stages of the history of the bacterium and propose hypotheses on its role.
Finally, we are interested in pathogenic mycobacteria adaptation. We are working with clinical colleagues to identify new clues to the evolution of the diseases, and the factors to target in diagnosis to provide the most appropriate treatment and care practices for each patient.
I am teaching both in general biology with a stress on in microbiology, and methodology. I train mainly future secondary school teachers using my professional background (I taught Life and Earth Sciences in secondary school for 6 years between 1997 and 2006) and skills acquired during a master in Didactics of experimental science. I am deeply committed in helping the students clarifying their motivations, and helping them meet their goals at several levels (teaching of methodology, supervising several classes and the global year of graduation in teahcing of Life and Earth sciences). I practice participative teaching and try to develop competency assessment.
Cosupervision of Muhammad Rabiu Sahal : Molecular epidemiology and phylodynamics of Mycobacterium tuberculosis complex in Nigeria, with a special focus on Mycobacterium africanum (Lineages 5 and 6),
Supervision of Adrien Le Meur : Prevalence and impact of reversion in the evolution of pathogenic mycobacteria.
2003 : PhD in molecular biology (Versailles, France)
2003-2006 : Secondary school teacher in Life and Earth science
2006-2008 : PostDoctoral fellow (ESE, Orsay, France – et Amherst college, Massachussetts)
2020 : Lecturer (Orsay, France)
2017 : Master in Didactics
2021 : Habilitation to supervise research (HDR)
2020-present : Senior lecturer (Orsay, France)
2022
Refrégier G, Genestet. Microorganisms 2022 Jul 25;10(8):1492. doi: 10.3390/microorganisms10081492 Mycobacterium tuberculosis Diversity Exploration: A Way to Serve the Three Main Weapons against Epidemics, Hygiene, Vaccine Development and Chemotherapy.
Genestet C, Hodille E, Bernard A, Vallée M, Lina G, Le Meur A, Refrégier G, Dumitrescua O; Lyon TB study group. Microbiol Spectr. 2022. Microbiol Spectr. 2022. Consistency of Mycobacterium tuberculosis Complex Spoligotyping between the Membrane-Based Method and In Silico Approach.
Guyeux C, Senelle G, Refrégier G, Bretelle-Establet F, Cambau E, Sola C. Epidemiology and Infection (2022) Connection between two historical tuberculosis outbreak sites in Japan, Honshu, by a new ancestral Mycobacterium tuberculosis L2 sublineage.
2021
Conceição EC, Salvato RS, Gomes KM, Guimarães AEDS, da Conceição ML, Souza E Guimarães RJP, Sharma A, Furlaneto IP, Barcellos RB, Bollela VR, Anselmo LMP, Sisco MC, Niero CV, Ferrazoli L, Refrégier G, Lourenço MCDS, Gomes HM, de Brito AC, Catanho M, Duarte RS, Suffys PN, Lima KVB. Mem Inst Oswaldo Cruz. 2021 Mar 15;116:e200517. Molecular epidemiology of Mycobacterium tuberculosis in Brazil before the whole genome sequencing era: a literature review.
Guyeux C, Sola C, Noûs C, Refrégier G. PLoS Comput Biol. 2021 Mar 5;17(3):e1008500. doi: 10.1371/journal.pcbi.1008500. eCollection 2021 Mar. CRISPRbuilder-TB: "CRISPR-builder for tuberculosis". Exhaustive reconstruction of the CRISPR locus in Mycobacterium tuberculosis complex using SRA.
2020
Refrégier G, Sola C, Guyeux C. Unexpected diversity of CRISPR unveils some evolutionary patterns of repeated sequences in Mycobacterium tuberculosis. BMC Genomics. 2020 Nov 30;21(1):841. doi: 10.1186/s12864-020-07178-6
Masoud K, Araj GF, Reslan L, Fadlallah S, Wehbe M, Itani L, Avedissian A, Dbaibo G, Saade A, Refrégier G, Sola C, Matar GM. Spoligotyping of Mycobacterium tuberculosis isolates using Luminex®-based method in Lebanon. J Infect Dev Ctries. 2020 Aug 31;14(8):878-885. doi: 10.3855/jidc.12072.
Kargarpour Kamakoli M, Farmanfarmaei G, Masoumi M, Khanipour S, Gharibzadeh S, Sola C, Fateh A, Siadat SD, Refregier G, Vaziri F . Prediction of the hidden genotype of mixed infection strains in Iranian tuberculosis patients. Int J Infect Dis. 2020 Jun;95:22-27. doi: 10.1016/j.ijid.2020.03.056. Epub 2020 Apr 3. PMID: 32251801
Klotoe BJ, Kurepina N, Zholdibayeva E, Panaiotov S, Kreiswirth BN, Anthony R, Sola C, Refrégier, G. NTF-RINT, a new method for the epidemiological surveillance of MDR L2/Beijing strains Mycobacterium tuberculosis. Tuberculosis 2020 DOI: 10.1016/j.tube.2019.101894
2019
Guernier-Cambert V, Diefenbach-Elstob T, Klotoe BJ, Burgess G, Pelowa D, Dowi R, Gula B, McBryde ES, Refrégier G, Rush C, Sola C & Warner J. Diversity of Mycobacterium tuberculosis in the Middle fly District of Western province, papua new Guinea: microbead-based spoligotyping using DNA from Ziehl-Neelsen-stained microscopy preparations. Sci Rep. 2019 Oct 29;9(1):15549. doi: 10.1038/s41598-019-51892-5.
Klotoe BJ, Kacimi S, Costa-Conceicão E, Gomes HM, Barcellos RB, Panaiotov S, Haj Slimene D, Sikhayeva N, Sengstake S, Schuitema AR, Akhalaia M, Alenova A, Zholdybayeva E, Tarlykov P, Anthony R, Refrégier G, Sola C. Genomic characterization of MDR/XDR-TB in Kazakhstan by a combination of high-throughput methods predominantly shows the ongoing transmission of L2/Beijing 94-32 central Asian/Russian clusters. BMC Infect Dis. 2019 Jun 24;19(1):553. doi: 10.1186/s12879-019-4201-2.
Conceição EC, Refregier G, Gomes HM, Olessa-Daragon X, Coll F, Ratovonirina NH, Rasolofo-Razanamparany V, Lopes ML, van Soolingen D, Rutaihwa L, Gagneux S, Bollela VR, Suffys PN, Duarte RS, Lima KVB, Sola C. Mycobacterium tuberculosis lineage 1 genetic diversity in Pará, Brazil, suggests common ancestry with east-African isolates potentially linked to historical slave trade. Infect Genet Evol. 2019 Sep;73:337-341. doi: 10.1016/j.meegid.2019.06.001. Epub 2019 Jun 3.
2018
Klotoe BJ, Molina-Moya B, Gomes HM, Gomgnimbou MK, Oliveira Suzarte L, Féres Saad MH, Ali S, Dominguez J, Pimkina E, Zholdybayeva E, Sola C, Refrégier G. TB-EFI, a novel 18-Plex microbead-based method for prediction of second-line drugs and ethambutol resistance in Mycobacterium tuberculosis complex. J Microbiol Methods. 2018 Sep;152:10-17. doi: 10.1016/j.mimet.2018.06.003.
Yasmin M, Refregier G, Siddiqui RT, Iqbal R, Abbasi SA, Tahseen S. Reverse line probe assay for cheap detection of Single Nucleotide Polymorphisms in Mycobacterium tuberculosis. Tuberculosis (Edinb). 2018 May;110:52-55. doi: 10.1016/j.tube.2018.03.007.
2017
Dantas NGT, Suffys PN, Carvalho WDS, Gomes HM, Almeida IN, Figueiredo LJA, Gonçalves AD, Gomgnimbou MK, Refregier G, Sola C, Miranda SS. Correlation between the BACTEC MGIT 960 culture system with Genotype MTBDRplus and TB-SPRINT in multidrug resistant Mycobacterium tuberculosis clinical isolates from Brazil. Mem Inst Oswaldo Cruz. 2017 Nov;112(11):769-774. doi: 10.1590/0074-02760170062.
Ratovonirina NH, Rakotosamimanana N, Razafimahatratra SL, Raherison MS, Refrégier G, Sola C, Rakotomanana F, Rasolofo Razanamparany V. Assessment of tuberculosis spatial hotspot areas in Antananarivo, Madagascar, by combining spatial analysis and genotyping. BMC Infect Dis. 2017; 17: 562.
Molina-Moya B, Gomgnimbou MK, Lafoz C, Lacoma A, Prat C, Refrégier G, Samper S, Dominguez J, Sola C. Molecular Characterization of Mycobacterium tuberculosis Strains with TB-SPRINT. Am J Trop Med Hyg. 2017 Sep;97(3):806-809. doi: 10.4269/ajtmh.16-0782.
2016
Refrégier G, Abadia E, Matsumoto T, Ano H, Takashima T, Tsuyuguchi I, Aktas E, Cömert F, Gomgnimbou MK, Panaiotov S, Phelan J, Coll F, McNerney R, Pain A, Clark TG, Sola C. Turkish and Japanese Mycobacterium tuberculosis sublineages share a remote common ancestor. Infect Genet Evol. 2016 Nov;45:461-473. doi: 10.1016/j.meegid.2016.10.009. Epub 2016 Oct 14. PMID:27746295
Yasmin M, Le Moullec S, Siddiqui RT, De Beer J, Sola C, Refrégier G. Quick and cheap MIRU-VNTR typing of Mycobacterium tuberculosis species complex using duplex PCR. Tuberculosis (Edinb). 2016 Dec;101:160-163. doi: 10.1016/j.tube.2016.10.003.
2015
Dantas NG, Suffys PN, Carvalho Wda S, Gomes HM, de Almeida IN, de Assis LJ, Augusto CJ, Gomgnimbou MK, Refregier G, Sola C, de Miranda SS. Genetic diversity and molecular epidemiology of multidrug-resistant Mycobacterium tuberculosis in Minas Gerais State, Brazil. BMC Infect Dis. 2015. 15:306.
Azé J, Sola C, Zhang J, Lafosse-Marin F, Yasmin M, Siddiqui R, Kremer K, van Soolingen D, Refrégier G*. Genomics and machine learning for taxonomy consensus: the Mycobacterium tuberculosis complex paradigm. PLoS One. 2015 Jul 8;10(7):e0130912. doi: 10.1371/journal.pone.0130912.
2009-2014 (M. tuberculosis)
Bonura C, Gomgnimbou MK, Refrégier G, Aleo A, Fasciana T, Giammanco A, Sola C, Mammina C. Molecular epidemiology of tuberculosis in Sicily, Italy: what has changed after a decade? BMC Infect Dis. 2014. 14:602.
Gomgnimbou MK, Ginevra C, Peron-Cane C, Versapuech M, Refrégier G, Jacotin N, Sola C, Jarraud S. Validation of a microbead-based format for spoligotyping of Legionella pneumophila. J Clin Microbiol. 2014.52(7):2410-5.
Yasmin M, Gomgnimbou MK, Siddiqui R, Refrégier G, Sola C. Multi-drug resistant Mycobacterium tuberculosis complex genetic diversity and clues on recent transmission in Punjab, Pakistan. Infect Genet Evol. 2014 Oct;27:6-14. doi: 10.1016/j.meegid.2014.06.017.
Gomgnimbou MK, Hernández-Neuta I, Panaiotov S, Bachiyska E, Palomino JC, Martin A, Del Portillo P, Refregier G, Sola C. "TB-SPRINT: tuberculosis-spoligo-rifampin-isoniazid typing", an All-in-One assay technique for surveillance and control of multi-drug resistant tuberculosis on Luminex(R) devices.. J Clin Microbiol. 2013 Nov; 51(11): 3527–3534.
Gomgnimbou MK, Refrégier G, Diagbouga SP, Adama S, Kaboré A, Ouiminga A, Sola C. Spoligotyping of Mycobacterium africanum, Burkina Faso. Emerg Infect Dis. 2012 Jan;18(1):117-9. doi: 0.3201/eid1801.110275.
de Beer JL, Kremer K, Ködmön C, Supply P, van Soolingen D; Global Network for the Molecular Surveillance of Tuberculosis 2009. First worldwide proficiency study on variable-number tandem-repeat typing of Mycobacterium tuberculosis complex strains. J Clin Microbiol. 2012 Mar;50(3):662-9. doi: 10.1128/JCM.00607-11.
Lawson L, Zhang J, Gomgnimbou MK, Abdurrahman ST, Le Moullec S, Mohamed F, Uzoewulu GN, Sogaolu OM, Goh KS, Emenyonu N, Refrégier G, Cuevas LE, Sola C. A molecular epidemiological and genetic diversity study of tuberculosis in Ibadan, Nnewi and Abuja, Nigeria. PLoS One. 2012;7(6):e38409.
Gomgnimbou MK, Abadia E, Zhang J, Refrégier G, Panaiotov S, Bachiyska E, Sola C. "Spoligoriftyping," a dual-priming-oligonucleotide-based direct-hybridization assay for tuberculosis control with a multianalyte microbead-based hybridization system. J Clin Microbiol. 2012 Oct;50(10):3172-9.
Borile C, Labarre M, Franz S, Sola C, Refrégier G. Using affinity propagation for identifying subspecies among clonal organisms: lessons from M. tuberculosis. BMC Bioinformatics. 2011 Jun 2;12:224.
Abadia E, Zhang J, Ritacco V, Kremer K, Ruimy R, Rigouts L, Gomes HM, Elias AR, Fauville-Dufaux M, Stoffels K, Rasolofo-R V, Garcia de Viedma D, Herranz M, Al-Hajoj S, Rastogi N, Garzelli C, Tortoli E, Suffys P, van Soolingen D, Refrégier G, Sola C. The use of microbead-based spoligotyping for Mycobacterium tuberculosis complex to evaluate the quality of the conventional method: providing guidelines for Quality Assurance when working on membranes. BMC Infect Dis. 2011 Apr 28;11:110.
Zhang J, Heng S, Le Moullec S, Refregier G, Gicquel B, Sola C, Guillard B. A first assessment of the genetic diversity of Mycobacterium tuberculosis complex in Cambodia. BMC Infect Dis. 2011. 11:42.
Abadia E, Zhang J, dos Vultos T, Ritacco V, Kremer K, Aktas E, Matsumoto T, Refregier G, van Soolingen D, Gicquel B, Sola C. Resolving lineage assignation on Mycobacterium tuberculosis clinical isolates classified by spoligotyping with a new high-throughput 3R SNPs based method. Infect Genet Evol. 2010. Oct;10(7):1066-74. doi: 10.1016/j.meegid.2010.07.006.
Zhang J, Abadia E, Refrégier G, Tafaj S, Boschiroli ML, Guillard B, Andremont A, Ruimy R, Sola C. Mycobacterium tuberculosis complex CRISPR genotyping: improving efficiency, throughput and discriminative power of 'spoligotyping' with new spacers and a microbead-based hybridization assay. J Med Microbiol. 2010 Mar;59(Pt 3):285-94.
2008-2014 (fungal speciation and evolution) :
Gibson AK, Refrégier G, Hood, ME, and Giraud T. 2014. Performance of a hybrid fungal pathogen on pure species and hybrid host plants. Int. J. Plant Sci. 175 (6), 724-730.
De Vienne DM, Refrégier G, López-Villavicencio M, Tellier A, Hood ME, Giraud T. 2013. Cospeciation vs. host-shift speciation: methods for testing, evidence from natural associations and relation to coevolution. New Phytol. 198(2):347-85.
Refrégier G, Hood ME, Giraud T. No Evidence of Reproductive Character Displacement between Two Sister Fungal Species Causing Anther Smut Disease in Silene. Int J plant Sci, 2010. 171(8) :847-859 https://doi.org/10.1086/655867.
Aguileta G., Hood ME, Refrégier G, Giraud T. 2009. Genome evolution in pathogenic and symbiotic fungi. Advances in Botanical Research. 49: 157-199.
De Vienne DM, Refrégier G, Hood ME, Guigue A, Devier B, Vercken E, Smadja C, Deseille A, Giraud T. 2009. Hybrid sterility and inviability in the parasitic fungal species complex Microbotryum. J Evol Biol. Apr;22(4):683-98.
Aguileta G, Refrégier G, Yockteng R, Fournier E, Giraud T. 2009. Rapidly evolving genes in pathogens: methods for detecting positive selection and examples among fungi, bacteria, viruses and protists. Infect Genet Evol. 9(4):656-70. Review.
Refrégier G, Le Gac M, Jabbour F, Widmer A, Shykoff JA, Yockteng R, Hood ME, Giraud T. 2008. Cophylogeny of the anther smut fungi and their caryophyllaceous hosts: prevalence of host shifts and importance of delimiting parasite species for inferring cospeciation. BMC Evol Biol. Mar 27;8:100.
Giraud T, Refrégier G, Le Gac M, de Vienne DM, Hood ME. 2008. Speciation in fungi.Fungal Genet Biol. 2008 Jun;45(6):791-802. Review
Giraud T, Yockteng R, López-Villavicencio M, Refrégier G, Hood ME. Mating system of the anther smut fungus Microbotryum violaceum: selfing under heterothallism. Eukaryot Cell. 2008 May;7(5):765-75. Epub 2008 Feb 15. Review
1995-2004 (plant molecular and cellular biology) :
Refrégier G, Pelletier S, Jaillard D and Höfte H. Interaction between wall deposition and cell elongation in dark-grown hypocotyls cells in Arabidopsis. Plant Physiol. 2004.135(2): 959-68.
Desprez T, Vernhettes V, Fagard S, Refrégier G, Desnos T, Aletti E, Py N, Pelletier S and Höfte H. Resistance against herbicide isoxaben and cellulose deficiency caused by distinct mutations in same cellulose synthase isoform CESA6. Plant Physiology 2002. 128: 482-490.
Fagard M, Desnos T, Desprez T, Goubet F, Refrégier G, Mouille G, McCann M, Rayon C, Vernhettes S and Höfte H. PROCUSTE1 encodes a cellulose synthase required for normal cell elongation specifically in roots and dark-grown hypocotyls of Arabidopsis. Plant Cell. 2000. 12: 2409-2424.
Plazanet C, Refrégier G, Demont N, Truchet G, Rosenberg C. The Rhizobium meliloti region located downstream of the nod box n6 is involved in the specific nodulation of Medicago lupulina. FEMS Microbiol Lett. 1995 Nov 15;133(3):285-91.